Our History
To serve older Americans who desire to live independently
How We Began
The Coventry Service Program began as an innovative national program to benefit older adults living in the United States. The foundational idea was to serve Americans who desired to live independently for as long as possible and to do so while continuing all the benefits enjoyed in their current neighborhoods.
Prior to offering long-term care insurance, Coventry, led by Bob & Gail Haldeman, had developed, financed, built and marketed continuing care retirement communities in a campus setting. When talking to potential residents Bob and Gail heard repeatedly; "I love my home, and I want to stay here." Bob knew there had to be a way to offer financial protection and access to services supporting independence at home instead of relocating. LifeStyle Solutions Long-Term Care Insurance Plans and the Coventry Service Program became an answer for those people seeking to age well at home. As a lifelong scholar-athlete and research oriented leader, Bob defined a Service Program centering on the overall well-being of policyholders.
To carry out the goal of creating a long-term care insurance policy that included wellness services within its financial structure, three years of research began. An initial collaboration with physicians at Johns Hopkins University School of Medicine, Division of Geriatrics led to a careful data analysis for underwriting our long-term care insurance product. The Hopkins-Coventry team imagined a program that met an array of objectives ranging from a wellness/service program component to resources for financial stability. Further collaboration with insurance and financial experts led to the Lifestyle Solutions insurance product with the Coventry Service Program as the wellness component included. Bob said, "We know this is an unusual combination that few other long-term care insurance companies offer: a proactive program to help policyholders stay well and at home. As for our company, we believe this is essential to a vital older age".
Why Do We Have A Thistle In Our Logo?

Thistles are weeds that grow almost anywhere. They thrive in the most adverse conditions and succeed where other plants wither. We believe the thistle represents a tenacity of spirit central to Coventry's work!
The vision of our founders, Bob and Gail Haldeman.
The founders of Coventry CareLink, Bob & Gail Haldeman, created the LifeStyle Solutions (LSS) long-term care insurance product with an attitude of servant leadership and a deep commitment to offering proactive options for aging well.
Sadly, we lost our Founder and President, Robert B. Haldeman, in February 2016 to his well-fought fight with cancer. Bob led an accomplished and full life; his early career included training in physical education and work with the YMCA, he went on to pursue a career in social work and was an active participant in the civil rights era. Ever driven, Bob then attended law school and practiced business law, which allowed him to be involved in the development of state legislation for long-term care facilities in Maryland, this state legislation was the first of its kind in the country. A lifelong athlete, just five months before his death, Bob biked 50 miles to raise money for the Multiple Sclerosis Association of Southern Maine. Our goal to this day is to emulate the example Bob set for us: "We will make a positive difference in the lives of older adults in the United States, through our finance program and wellness plan. We will achieve this goal by offering a plan for staying at home as long as possible with secure living based on insurance protection, with the enjoyment of good health and wellbeing, through strong social and cultural interests, and by giving sound advice when further care is necessary." The name LifeStyle Solutions reflects the insurance benefits providing financial security together with an individual service program: a truly unique combination.
Gail Haldeman continues to honor the company's visions and goals by serving as a Board member, and by providing guidance and support to the members of the Coventry Service Program staff and the policyholders they serve.
The LifeStyle Solutions long-term care insurance plans are underwritten and issued by United Security Assurance Company of Pennsylvania, a licensed life and health insurance company founded in 1983. Coventry CareLink and United Security Assurance merged as sister companies in 2007 with offices in Baltimore, MD, and Souderton, PA. The Coventry Service Program is located in Freeport, Maine.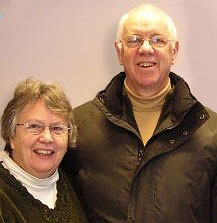 Our Founders,
Bob and Gail Haldeman
Bob's Vision still inspires us:
"We will make a positive difference in the lives of older adults in the United States, through our Program and Plan. We will achieve this goal by offering a plan for staying at home as long as possible, with secure living based on financial protection, enjoyment of good health and well-being, strong social and cultural interests, and sound advice when further care is necessary."
As part of a biking tour of the British Isles, principals in the firm spent a day at the Coventry Cathedral, a renowned international center for world peace. A bombed-out shell of the original church connects with a modern edifice where people from around the world, including those whose government bombed the Cathedral during World War II, have contributed varied cultural items to enhance worship and work spaces. The combined cathedral speaks to creating alternatives to war. The beauty of the splendid remnants of the past combined with a new and inspiring structure was a somber yet glorious highlight of the journey.
Touched by the story of reconciliation between the German and English who rebuilt the church, thoughts of Coventry came to mind when the firm selected a name.
The shared story of the Coventry Cathedral took on new meaning when discussed among staff of the company. In their view, Coventry Resources, now known as Coventry CareLink, would parallel the reverence of the past while looking to the future, and could prize traditional methods, yet utilize up-to-date technology. The name seemed consistent with remembering lessons learned from the years of Coventry experience and a commitment to creating viable retirement solutions for older persons who come to live in Coventry communities or join the Coventry circle as policyholder members. Members of the firm thought that it reflected attentiveness to beauty and practicality. The name implies a willingness to listen to life stories and apply wisdom from this source.
Out of struggle to constantly improve comes good. The Coventry team is committed to the singular goal of valuable work in the field of aging. Balancing trends with inventive solutions, it is our goal to produce special options for lifetime vitality and long-lasting security.
Subscribe to our newsletter for free resources and updates!